Using digitally printed fabric and our CMT capability, in the UK.
We've been digitally length printing fabric for a decade now and have seen some huge advances in the quality of machinery and print.  From a humble beginning with one digital printer to supplement our screen print operation with jobs that were too short to be economic, we now have the capacity to print 1000's of meter per week.  We continue to look for new machinery that makes our print quality better and better, enabling us to serve our clients with the best possible results.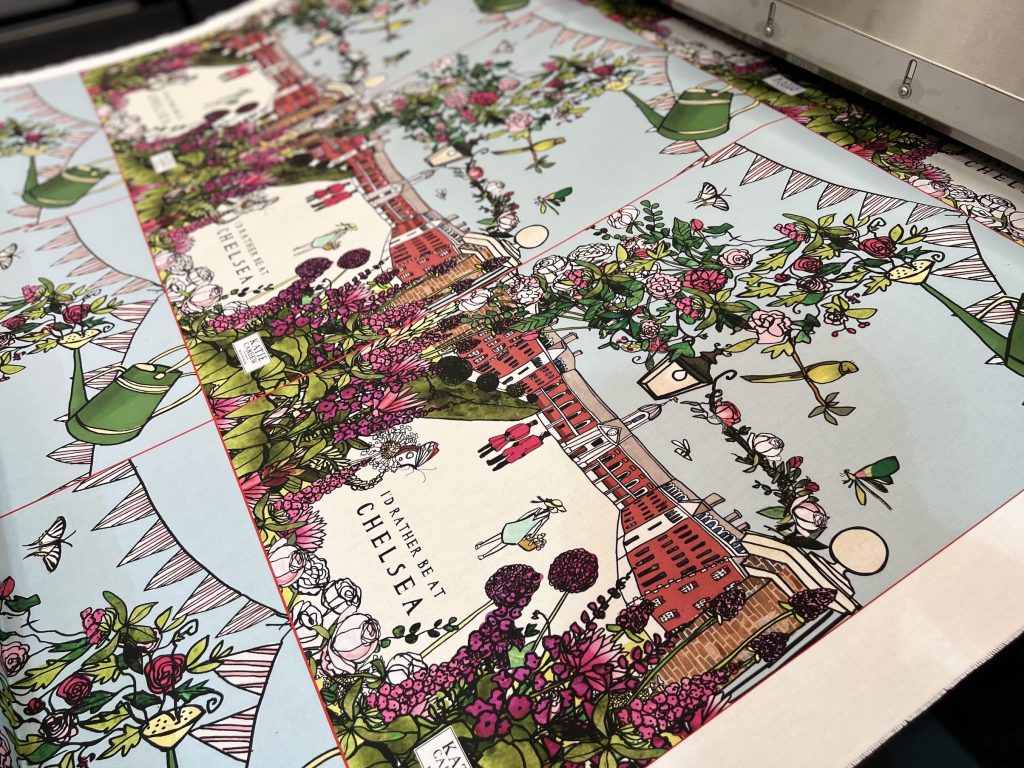 We currently print with GOTs certified pigment inks onto all our organic cotton fabric, with an 8 colour print system.  This is a very environmentally friendly way of printing, because it reduces the amount of waste, chemicals and water used, compared to other methods.  It also produces very bright colours and a wide colour gamut.  The curing process is dry, so no waste water is created and the ink waste is so low because of the precision of the process.  It's a fast process as well, with our lead printing machine being able to print fabric at 60 meters per hour.  This enables us to produce large volume orders of printed fabric very quickly.  We are finding that brands large and small are looking for ways to make their textiles more sustainable and digital printing is very important part of achieving this.  Especially when partnered with UK manufacturing, reducing the time it takes a brand to develop a new range and launch it.  Why is this important to sustainability though?  Well its simple, the biggest single thing the industry can do to be more sustainable is to reduce over production.  The most effective way to do this is to reduce the time it takes to develop a new range and re-stock it if its selling well.  With long lead time off shore production, this is impossible and lets not even get into to the shipping costs and difficulties.  Brands are having to use cheap labour to buy big.  But if its done in the UK, stock can be much more closely managed and even managed on demand for e-commerce brands.
Advantages and disadvantages of digital printing onto fabric.
So what are the advantages and disadvantages of digital printing onto fabric?  It quite hard to see many disadvantages, if you compare it to rotary printing and screen printing you can argue that is more expensive.  But this is only relevant if you're printing very large volumes, due to the set up costs of screens.  The depth of colour achievable now digitally is amazing and very commercially viable, but it isn't quite as good as screen printing, so this could also be a disadvantage.  But the advantages are huge!  Small volume printing, fast production lead times, the ability to print multiple designs together, split MOQ of products over multiple designs and very low to zero waste ink or rejected prints.  It also takes the breaks off from a design point of view, gone are the days of needing to understand process printing with screens and designing to a limited colour range to get a design to be commercial, now the design and designer can lead the agenda!  In summary digital printing enables brands of all sizes to be flexible, commit less budget to stock and ultimately be more profitable.
Using digitally printed fabric and our CMT capability, in the UK.
Many of our customers buy just fabric printed from us and then either convert it theirselves or send it to a CMT (cut make trim) facility for conversion.  But the majority also use our CMT facility in Wrexham, where we also print.  So you can get 100% cotton 1/2 Panama, jersey or twill printed, cured, cut and sewn into fantastic genuinely UK made textiles.  We have recently seen a large increase in demand in printed aprons and tea towels.  We assume this demand is servicing our love for baking and that we are spending more time at home these days.  But printed tote bags, cosmetic purses and cushion continue to be among are best selling products.  Our CMT department also love making t-shirts that are all over printed.  Our ability to turn around 1000's of product a day and short UK lead times is enabling UK brands to grow with out the trouble of long lead time and import complications.  For small brands we can produce orders of under 100 units if required and for larger brands we can produce in the 1000's.
We carry stocks of organic and non-organic cotton 1/2 Panama ready for printing and converting into bags, tea towels and cushions.  We also have excellent supply chains that re able to offer us a huge range of other woven fabrics including linen blends with cotton.  If you're looking for t-shirts, we can also get cotton jersey or interlock knitted for you in the UK.  We also sublimate onto polyester fabrics, so whatever you're brands requirements are, we can fulfil them.
Our team of artworks we will also be able to advise you about how to set up your artwork.  This can include the resolution requirements and also the best profiles to work in for the best print results for you.
We look forward to working with any brand or retailer or promotional house, so if you are interested in printed fabric, or our full print CMT service in the UK, get in touch!