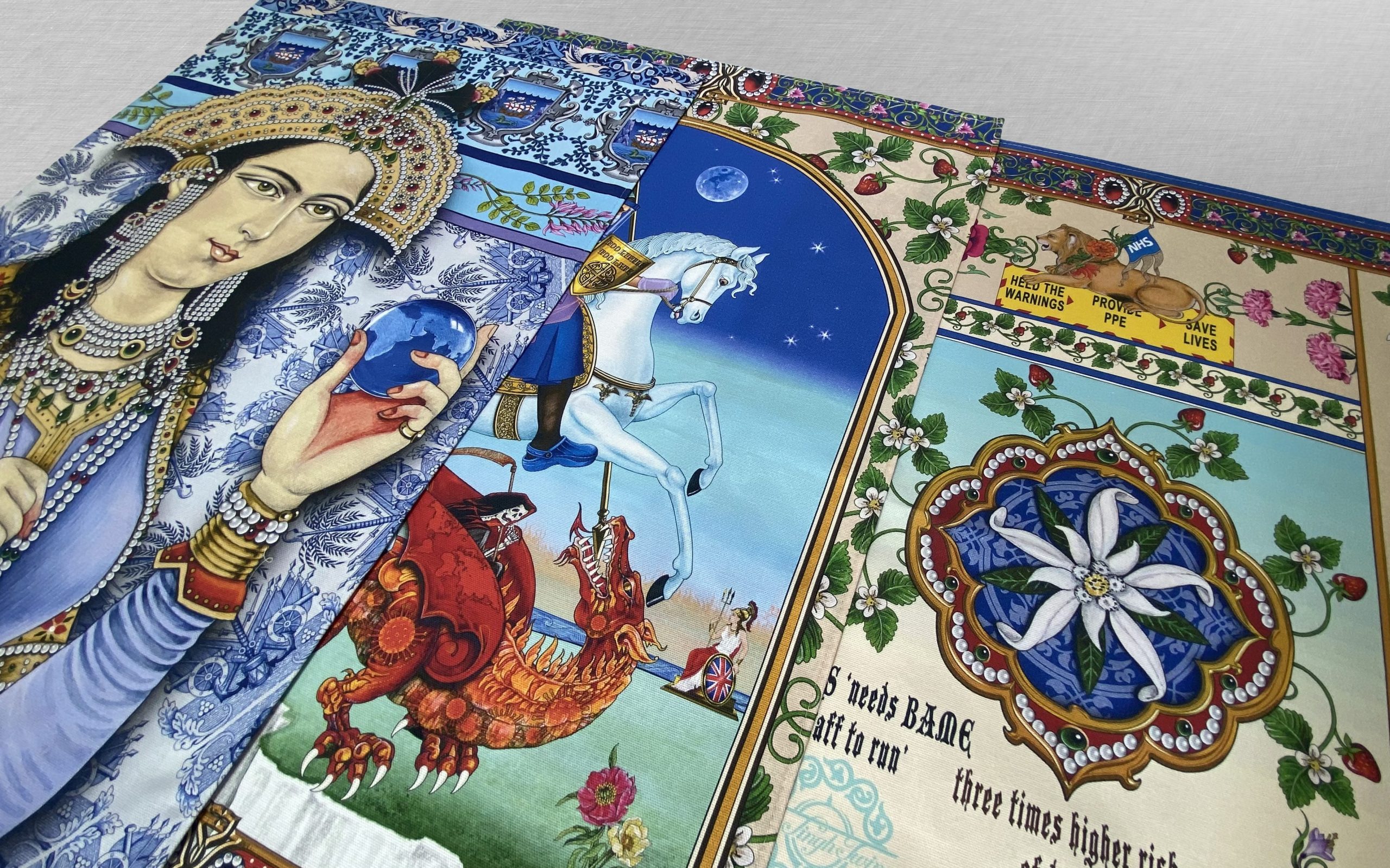 It might not be one of the seven mysteries of the world, or even worthy of much thought at all, but why do people love a tea towel? You can go to pretty much any attraction in the UK and find a printed tea towel on sale. They're used for school fundraising and even corporate giveaways, but why?
It's not impossible that somewhere a real expert exists, who has dedicated their academic energy to really exploring the tea towel and for clarity, it's not me! But I've been printing them for fifteen plus years now and can't even begin to imagine the total number of tea towels that have passed through our presses over the years. So, I consider myself somewhat of an expert and certainly intitled to have an opinion on what's so interesting about the tea towel.
I'm going to start answering this with two anecdotes, the first one was at a trade show in London and I was having a drink with two very nice people for the Ulster Weavers stand. One was the head of something very corporate at the time and we were having a laugh about how many tea towels do we think just end up in a drawer and never see the light of day. But he had a really interesting statistic that 75% of printed tea towels never even get used and end up in collections. It might well be an exaggeration, but it struck a cord with me and made me think about the tea towel as a collector's item rather than a practical kitchen cloth. The second anecdote comes from a meeting I had with a very high-profile designer, who was working on a product range for the Tate Gallery. I met the buyer who was handling the meeting at the time and was there in the capacity of advising on what we could do. He was great value and during the meeting actually showed some of the huge collection of tea towels he had! I was disappointed not to find one we had done in his drawers, but I'm sure now we move on a few years that at least the one we printed with his design on it will have made it to the collection.

Our tea towels are GOTS approved for use on organic cotton
This reinforced the point of a tea towel for me and who they're for and why we print so many of them. The images we decide to bring into our homes and collect are a huge part of who we are. They can be our identity, my family in-law are proud Mid-Walians and I've found several amusing printed sheep tea towels and the odd inappropriate apron, but they also have tea towels from Australia that come from my father in-laws brother who lives in Sydney. These tea towels don't get used, because they mean something, they provide a connection that shouldn't be used to clean glasses or mop up tea. They can be sent or carried in suitcases without the fuss of a poster or picture in a frame and they are tangible unlike a digital photograph.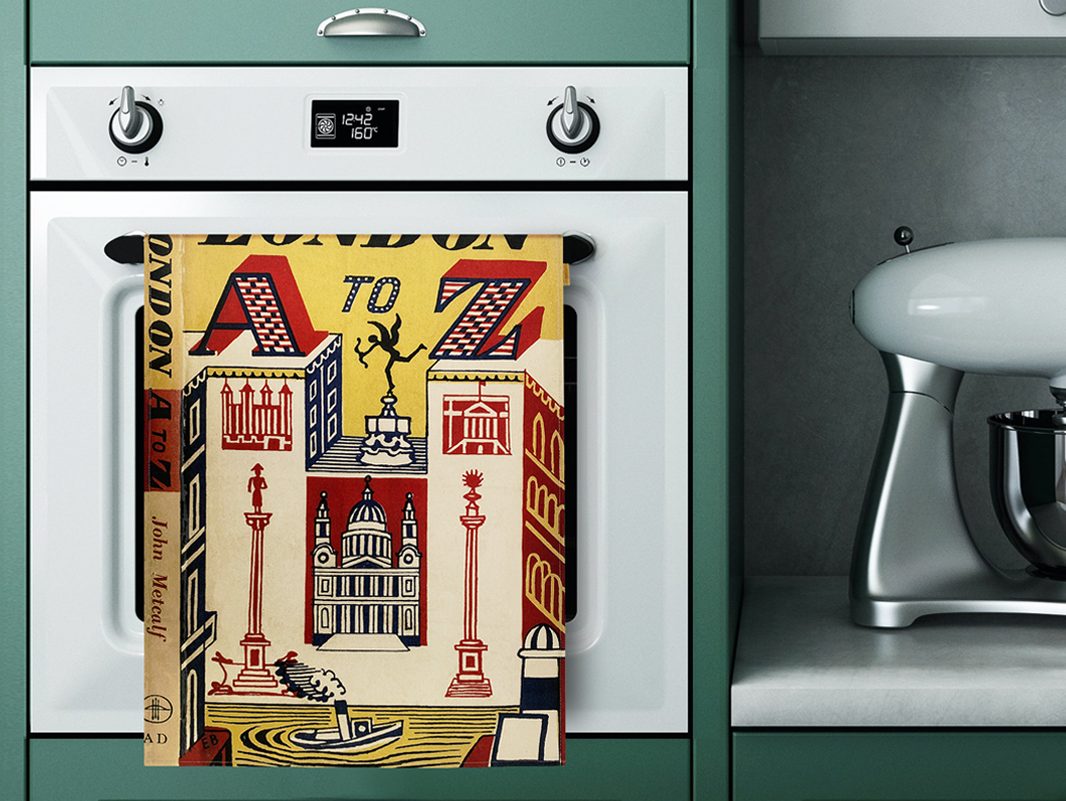 Other friends I have love to see the latest art tea towel we have printed and naturally get their hands on a freebie (cheapskates – you know who you are!). But having a lovely selection of printed tea towels containing beautiful images can really brighten up the kitchen in the same way new cushions can for a front room. But so much more than that, they can also trigger a memory of fondness of a friend or place you've been or artist you love. We print tea towels for lots of cultural attractions and it's easy to see them as just another tea towel, but when someone at an attraction who has had a lovely day decides to buy one, it very unlikely to be because they needed one.
You can say collecting and connections to memories is part of all the printed merchandise we produce, especially t-shirts that people love to collect. But tea towels carry a cross gender and age appeal that I think is unique! Both young and old can use them in different ways as posters or an affordable way to start placing an identity in the kitchen of a new home or as a part of their identity.
I feel remarkably unqualified for my next thought, because I don't drink tea and think I might be one of the only adults in the UK to have never even tried it! But it's still clear to me that tea is important to everyone else, so it stands to reason that the tea towel carries a lot of importance as well.
What we here at Paul Bristow's do feel qualified to do though, is to help all of you out there who want to produce printed tea towels to get exactly what you want. We can talk though fabric options and printing methods, so that we get the right results for your purpose. We also understand the importance of packaging tea towels correctly for the retail space you have and have tones of advice and experience of what works and what doesn't.
If you want to click on any of the images above they'll take you through to examples of the tea towels we've printed and better still click here to get in contact with one of us so we can bore you some more with all we know about the tea towel!
Thanks for reading!